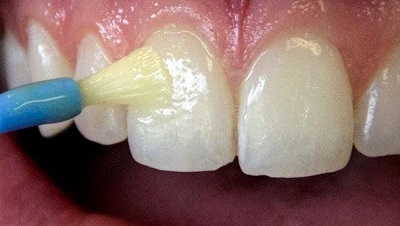 Tooth enamel is one of the hardest substances on Earth. Unfortunately, acid from the foods we eat and the bacteria in our mouths can eat away that enamel. Fluoride helps keep enamel strong and prevent cavities. It can even reverse the problem by helping enamel to re-mineralize and harden. Topical fluoride application can also help re-mineralize sensitive areas of exposed roots and close off the microscopic tubules leading to the nerve. The hard surface of your roots is called cementum. If cementum is exposed to the oral environment it is prone to decay because it isn't as strong as the enamel that covers the crown of a tooth. Fluoride application to root surfaces can help reduce the risk for future decay. Another benefit to fluoride use is its desensitization effect.
Topical fluoride application to sensitive areas of exposed roots can help them to re-mineralize and close off the microscopic tubules leading to the nerve from the oral environment. Professional fluoride treatment is a safe and effective way to reduce your risk of dental decay. We use the latest proven methods of fluoride application to safely deliver fluoride to your teeth.
Reasons to get a professional fluoride application:
Children and adults that are at moderate and high risk for caries (cavities)
Desensitization for exposed root surfaces
Decay prevention on exposed root surfaces
Fluoride application surrounding metal orthodontic braces and brackets
We'd Like To Be Your Family's Home For Gentle Dental Care in Hopkins, MN!
Our friendly and professional team is eager to serve you. Call 952-938-7746 or use our online form. One of our team members will happily help you schedule a convenient appointment time. Request an appointment